PAST & PRESENT
Safari Surf is Africa's largest and longest-established surfboard manufacturer. The growth and success of the company has been synonymous with that of legendary shaper Spider Murphy, who after 80,000+ boards and 60 years is still out with the crew at North Beach every morning testing board design innovations.
SAFARI SURF: 6 Milne St, South Beach, Durban
CALL: 031 337 4230
EMAIL: boards@safarisurf.com
BESTSELLERS - Your Safari Stock & Stick Picks
---
BOARD MODELS & SURF ACCESSORIES
---
SAFARI SHAPERS
Safari is a glass house, with a growing team of up and coming shapers. Our shapers include Spider Murphy & Zanie Cawood.
Spider Murphy
Spider first shaped a board in 1963 at the tender age of 16 and founded War Surfboards before joining Graham Hynes at Safari Surfboards as their main Shaper in 1972.  His latest masterpiece the Spider Missile Pro is already making serious waves in the surfing industry. 
VIEW MORE INFO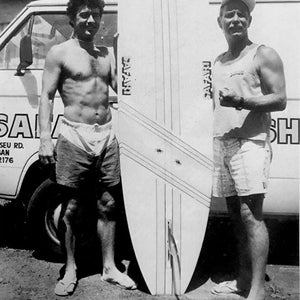 RETRO SURFBOARDS
We have a collection of Safari boards that date back to the 60s. 
Whether you want a new take on a retro style or a new model, our dedicated team has a reputation for delivering high quality customized surfboards to surfers world-wide. 
Give us a call or visit us in store for one-on-one advise on your custom order.
DURBAN STORE ADDRESS:
6 Milne Street, South Beach, Durban, 4001
CALL: 
+27 31 337 4230
+86 233 2889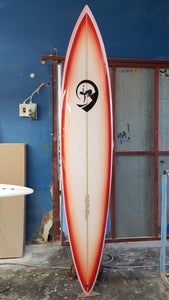 The "Pink Banana"
This replica of Shaun Tomsons "Pink Banana" Pipeline board  was made for Jordy Smith's personal collection. 
In 1974 Spider Murphy shaped the original for Shaun to take to Hawaii. For the era it had a ridiculous amount of rocker.  Spider said "Well, I couldn't get the rocker shaped into the blank, so I put some bricks on the nose after laminating the board to bend some curve into it." 
Shaun's first surf on it at Sunset was a disaster but the second surf on it was at Pipeline & a complete game changer. "On a 10′ wave I hit the bottom & jammed as hard as possible, the board accelerated vertically up the face. In one huge carve I laid it over on the rail under & into the tube as the spit blasted all around me".
Shaun became the youngest Pipe Masters winner in 1975.
FEATURED SPRAY
Pastel pinks and blues on a Slash #surfboarddesign #spraygallery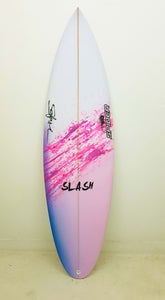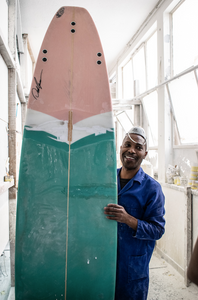 BOARD REPAIRS & SERVICES
Our team are experts at refurbs & repairs & mark out every spot that needs attention.
➕Dings from R250
➕Snapped shortboards from R900
➕Snapped longboard from R1600
➕ Refurbished board from R1600
Repairs also done to SUPs, wind & kite surfing boards. 
CONTACT US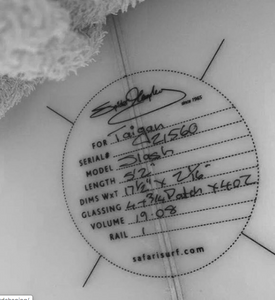 CUSTOM BOARDS
Find the best board fit for your needs. Unsure?
Visit us in store and we can give you some solid advice.
We create everything from custom surfboard shapes and sprays to epoxy and eco alternatives.
All fin configurations are also available - single fins, twin, thruster, quads etc.
VIEW BOARD PRICING
CUSTOMER FEEDBACK
"The most accommodating board shop in Durban! Sorted us out with a couple of loan boards to try, always aiming for more happy folks in the water. Great vibe in the shop. Even custom made and painted a board in a week for me so I could grab one last wave before I had to fly back to the uk. The best service I've ever seen from a boardshop✌- Connor le Geyt 
Longboard Shaping Ft Spider Murphy & SA Longboarding Champion Sam Christianson
---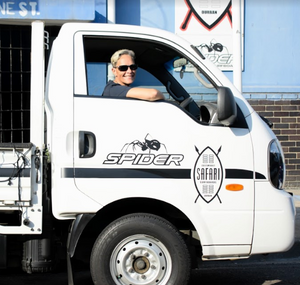 PICK UP STICKS
Visit us in store to pick up your new surfboard or order delivery to your door when you checkout online. 
DURBAN STORE ADDRESS:
6 Milne Street, South Beach, Durban, 4001
CALL: 
+27 31 337 4230
EMAIL: 
boards@safarisurf.com
1970 Porsche 911 Surfari by the Dutchmann
---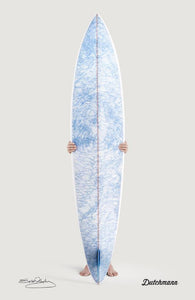 FEATURED BOARD ART
A select group of ten artists and designers were tapped to create artwork for 10 new Pipeline Guns, based on the original 1975 model. 
In an idiosyncratic twist, sparked in part by the pristine white form of the board itself and in part by a sly reference to Dutchmann's name, the artists were asked to work within the theme of Delftware, limiting their palettes to the cobalt hues which gave this 16th Century Dutch style of pottery its distinctive appearance.
Blog
---
: @twincalebphoto     "Spider called me while I was in Portugal last year and asked if I would like to ride a board he had been working on, the "Missile"....
By Craig Jarvis In November 1974, Spider Murphy shaped a board for Shaun Tomson that changed the game at Pipeline forever, and helped Shaun go on to win his World...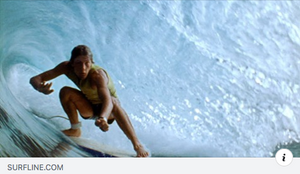 In 1975 very few surfers had ever heard of The Bay of Plenty or Cave Rock. But in the winter of that year a young South African surfer, honed in Durban's...